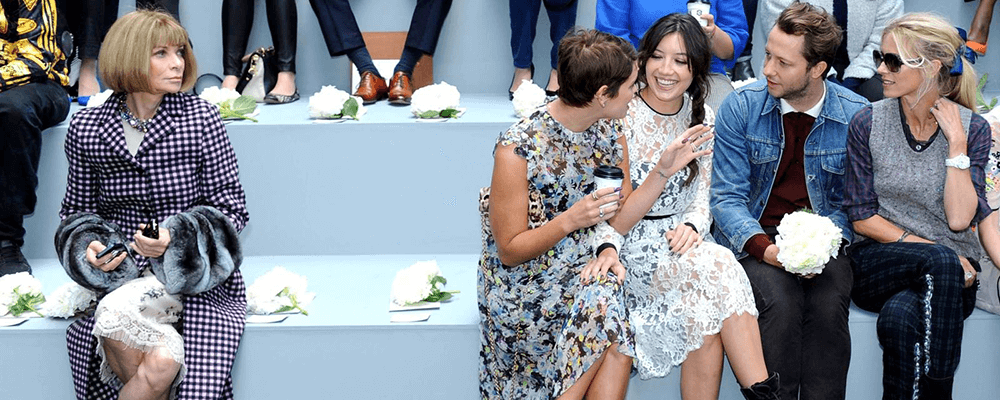 09 jan

BLOGGERS VS VOGUE
 Por Catarina Oliveira


Are the bloggers a problem for Vogue? Or, the Vogue's problem is the Vogue itself?
Mrs. Sally Singer, Vogue.com's Digital Creative Director, after Milan Fashion Week, decided to write some not-so-friendly words about the fashion bloggers. I am not here to defend those words written with zero emotional intelligence. However, there are some important nuances behind that article that are worth of further reflection. It is important to say again that I don't agree with the way Mrs. Sally expressed her thoughts, but I must admit she is not totally wrong: she just blamed the wrong people.
The Bloggers had a huge impact on fashion democratization. They made it accessible. They demystified it to the ones who only want to know what will be in the next season, or with what to dream with. Since I can remember myself, my mom has always bought the Vogue Magazine. Her main purpose is to be aware of the trends (and, of course, to feel closer to that "inaccessible" world) – however, every time she reads it, she says the same thing – "Oh my god, Does really anyone dresses these clothes!?" (Imagine my mom in Vetements…. LOL)! The truth is: she still keeps buying Vogue every month. To me, as I have a huge interest in everything related with the fashion industry, it's easy to understand who wears that pieces, when and how – but more than this, it's easy for me to understand why does Vogue keeps its distance from the mass market – it isn't a matter of futility – it's rather the fact that the fashion industry works with its fairy tale Aura – that dreamy world where only few have access to, but that makes us all dream (Haute Couture What?). Inaccessibility is vital for fashion survival. For my mom and for most of the population whose only interest in fashion is their love for shopping, the bloggers were really important as they shown how trends do become wearable. They also demonstrated that high fashion, after all is not that unreachable.
Said so, either the Vogue or the Bloggers are really important – one is the dream, the fantasy – other is the reality. Do these worlds collide? Yes. Is there space for both? Also yes.
There is no doubt that the fashion bloggers have their space in this industry – but if their role is being a threat or if it's being confused with the Vogue's role, it's not their fault. For sure.
When Mrs. Sally said those words, she forgot how incoherent she was being and how she was undermining her position. She forgot that most of the bloggers/ instagram stars, whatever, became well-known and respected because the Vogue itself gave them distinction – and even more ironic!! Vogue gave that distinction by placing them on the famous "The best Street-Style of X Fashion Week" galleries.
Vogue needs to understand that one isn't replaceable by the other, and that the bloggers success is in part the consequence of Vogue's demerit. How long ago doesn't Vogue delivers us excellent and impartial content? To be honest, there are no words to describe how I miss reading an excellent, humble and honest review about a fashion show or a designer's work, like Cathy Horyn used to write. And why do this kind of critics have disappeared? Because Vogue is doing the same as bloggers do for living: to be paid to write the content and to appeal to the mass market. Not to mention the fear of losing the advertising contracts (the main source of revenue). How many written pages are published on Vogue magazine per month? And, how many of its articles are in fact surprising and meaningful? How many times does Gigi Hadid and Kendal Jenner – Top Models and Instagram Stars – have been the cover girls over the last months? Everything because the focus have changed. What matters now is a higher circulation and the development of click-bait posts. These decisions lead, of course, to a kind of identity lost.
Vogue has to understand that its aura means so much for us all that we haven't lost our faith. Far from that! Personally, I cannot wait for the moment that Vogue finds itself again and starts to provide the quality, the dream and the emotion that used us to. This Magazine has so much power (or had) that only really cares with what it wants to – so has to use that power. Also has to swallow the pride, find its identity and reinvent itself – and the sooner the better. There are too much amazing fashion publications on the market right now, and nothing is in fact eternal.
#wewantthebibbleback