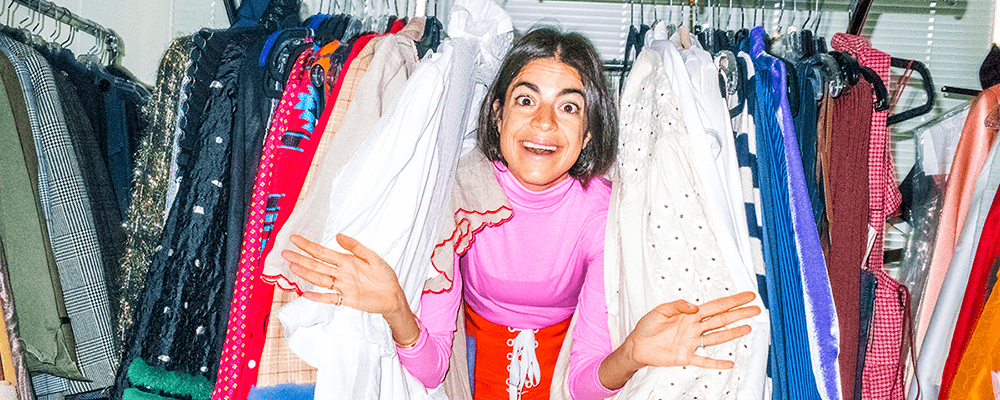 17 jan

THE LEANDRA MEDINE'S METHOD YOU NEED TO KNOW
 Por Catarina Oliveira


I know how stupid it may sound, but I live in a constant state of anxiety…
And on the list of all the reasonable reasons that make me live like that, there is one that makes it all sound absolutely ridiculous: the feeling that despite all the clothes I buy monthly, I have nothing to wear and that I just bet on the wrong horses. I know what you are thinking: this human being has too much free time and nothing really important to think about! Fair enough…I would probably think the same. However, I decided to face the reality and to try to understand what is really happening here and what I should do differently.
Let's see it: I am totally addicted to fashion, I love to go shopping, I spend hours on all the online stores you can imagine, scrolling and looking for the perfect pieces. I also spend a huge amount of my time scrolling on instagram, and my pinterest is so full of amazing outfits that's not even possible to have them all in a lifetime – and for a second I get depressed .. And nostalgic. So, with all that stuff said, and adding the fact that fast fashion companies like Zara, Topshop or H&M have new products every single week – it's impossible not to feel that our closets are always passé. Besides that, there is also a very important point here: the budget is limited – which means that a lot of hard choices have to be made.
So, after spend enough time thinking about the facts written above, I took some incredible conclusions: first, that I am a perfectionist (please, don't laugh. This is serious). I am obsessed with being 100% sure about what I am buying. And second, and maybe the most important of all the conclusions: that all my perfectionism and obsessions just go away as soon as I enter a physical store. It's insane!! I become absolutely IRRATIONAL. (Your welcome retail managers. I believe you have here a very useful information). All my ideas and purposes about what I need just vanish, and I just go back to the ground zero. I even lose the ability to think clear about my entire closet.
What does a super rational person in every aspects of its life act like this when clothes are the subject? Then I realized that what was being missed here was discipline. As karma works in favour of well behaved humans (or not… I am just trying to justify an absolutely random event in a modern way), exactly when I was dealing with that stuff, I came across the Leandra Medine worth-of-scientific-research-given-the-incredible-therapeutic-effects – Meditating Method.
Quoting her, this method is based on " Open Iphone notes. Click into the one called Outfits. Start making up looks". Yap. That's it. I read her article on ManRepeller.com where she shown super plausible arguments in favour of this method and I was just shocked. Of course, in the beginning I was also very sceptical! How have I never thought about this!? But the ultimate argument that made me think "ok. You will try it n.o.w", was when she pointed that, after this, we would not only be super relaxed, but we would also have "a bank of shit to wear". It was enough to convince me. I immediately started to think how f*cking useful this method could be.. By making outfits with my clothes I would be able to be more conscious about what my closet really needs, what I should buy, and to get rid of my anxiety. ALSO!! This method is THE solution for the classical problem "No one is able to make good decisions before coffee, so how can one expect me to put an outfit together, as soon as I wake up?". Now, you just have to check your outfit list!
So, I gave it a try and this was my experience:
I started cautiously, without being absolutely sure about what I was doing. I started by making up  few looks with some of my clothes. Nothing really bold… And then came the revolution: a simple scroll on my instagram made me face 100 incredible outfits; go straight to my outfit list and emerge in a world that my boyfriend state as serious mental problem. When I came back to reality, I just realized that he wasn't so wrong: while I was making up looks, I was also doing (brace yourselves, I am not sure if you are ready for this)… an inventory of all my closet. Yap. I have an inventory of all of my clothes, shoes, bags, and accessories, on my Iphone…. And before you judge it: DO YOU HAVE AN IDEA OF HOW USEFUL THIS IS!?!?!?!?!?!? This is revolutionary… Sorry for my excitement! But this is the best thing ever!! I am in fact more relaxed than ever: now I have a list of amazing outfits; I found clothes that were just forgotten; I have saved plenty of my morning's time and I have started to constantly leave my house happy with what I am wearing (looks like I woke up one hour earlier); and more than this, I could finally maximize my invested money (I love to call it an investment. A big kiss to all my friends who are studying finance and who have thoughts about killing me every time I call my closet an investment) and feel that I am in perfect control of what I need or not.
THIS. IS. SO. AWESOME!
I must say this method came to stay in my life.
Thank you Leandra. You should think about writing a book about this. Or patent the method. Or to sell it to some huge chain. Whatever. Do something with this.
Important disclosures:
Of course you can allow yourself to go crazy once in awhile, and to buy that piece you could die for, despite the lack of certainty about the occasion where you would wear it (in fact, it doesn't always matter).
I also advise you to change your iphone security code more often. If your list of clothes would be as big as mine, I am telling that you don't want your boyfriend to have access to it. It's too hard to find enough excuses to justify that size.