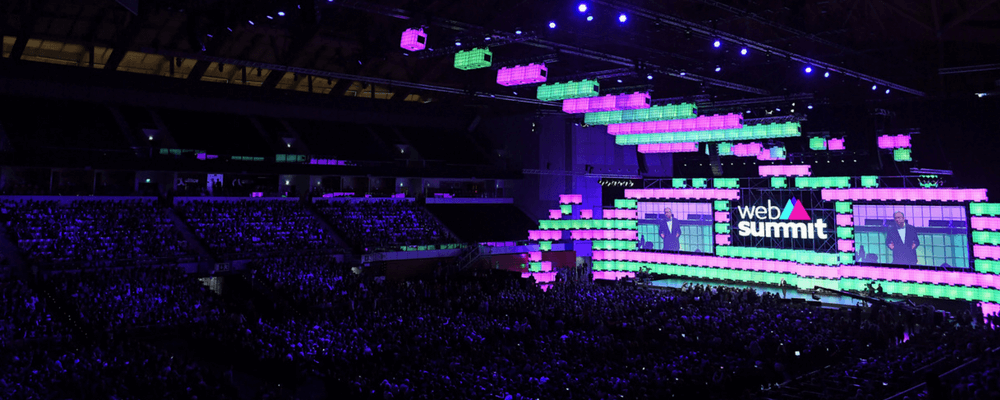 07 nov

THE OPENING NIGHT: WELCOME TO WEB SUMMIT 2017
Opening button pressed, Web Summit is officially open! With a lot of excitement for the largest tech event in Europe, the event starts with a huge show and positive vibes
Walking by Expo until the main entrance, one could feel a great vibration. Attendees, investors, speakers, media, staff. Everyone carrying their badges, a big smile, and a lot of excitement for the largest tech event in Europe.
The Opening Night wasn't for everyone: with over than 60,000 attendees, if you missed the pre-registration you couldn't attend. However, you could get some flavor of the opening in our Instagram @glaucojunqueira (keep following us in the next days for all the details of WS 17). Below, I bring more on what was this energetic night.
Some minutes after 6:30pm, in a full packaged Altice Arena, Paddy Cosgrave appeared in the main stage. It was nice to see how happy and thankful to Lisbon he was. Paddy highlighted that networking is in the heart of WS, and with that, he asked everyone to stand up and self-introduce to the person at your side. Really cool, and a reminder that we should not be shy to get the most from WS.
The majority of the speeches were about how fast technology is developing, artificial intelligence, the power of technology and corporations, and the need of finding the right balance when applying tech. The idea is to ensure the correct balance (including fair competition between companies), and boost tech for the great and good of society.
One of the high points of the night was, for sure, the participation of Professor Stephen Hawking. Yes, you read correctly. Professor Hawking delivered a keynote address on artificial intelligence (AI) via video at Web Summit opening night. About the use of technology, he said:
"I am an optimist and I believe that we can create AI for the good of the world. That it can work in harmony with us. We simply need to be aware of the dangers, identify them, employ the best possible practice and management, and prepare for its consequences well in advance. Perhaps some of you listening today will already have solutions or answers to the many questions AI poses."
António Costa (Portugal Prime Minister) and Fernando Medina (Mayor of Lisbon City), have closed the night. They welcomed everyone to Lisbon, and recalled that Portugal is the right place to host Web Summit: since the Discovery era (5 centuries ago), Portugal is welcoming people that don´t have the fear to innovate, want to discover new worlds, and connect the planet.
Opening button pressed, Web Summit is officially open! Enjoy