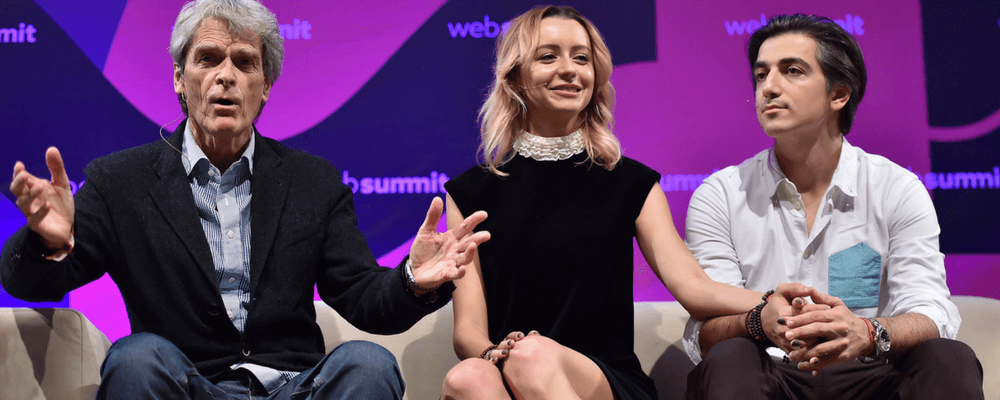 08 nov

WEB SUMMIT DAY 1: FACEBOOK, INSTAGRAM, FASHION, ROBOTS AND PARTY
It was a big day! The first day of WS was full of good activities and interesting things. Robots and a car on the stage, the show is about to start
Walking around FIL and Altice Arena, we could see startups showing their new solutions and apps, and some of the lucky ones presenting it to investors, trying to raise funding and, who knows, be the next unicorn.
Different stages hosted interviews on a big range of subjects. As anticipated, you have to focus and book in your schedule the ones that you can't miss. A snapshot on my elected:
PandaConf stage
Interesting speech on Influencing #Instagram. Murad & Nataly Osmann, the Instagram stars @muradosmann, discussed with other speakers the power of influencers and how important is the match influencer-brand. They also made clear that a professional work as influencer takes time and investment of a lot of energy (our life isn't about getting free food, drinks, clothes and accessories): research, suggestions for the brands, preparation, photos, videos, copyrights… there is a lot involved.
Shifting gears, in another talking, the star was the Portuguese entrepreneur José Neves. The founder of one of the biggest luxury fashion e-commerce, Farfetch, described how this Portuguese-British giant was born, in the middle of the Lehman Brothers crash (2008), the difficulties until funding could be raised (in 2010), and the collaborative philosophy of the company, by which independent boutiques can make a lot of profit through Farfetch platform. Thinking about launching your own business? José Neves gives a tip: "if you have an idea, and you feel that if you don't implement it you will be regretted, just go for it and implement."
Centre Stage
Will Artificial Intelligence save us or destroy us? This was the intricate question that Ben Goertzel literally discussed with two robots, Professor Einstein Robot and Sophia The Robot. Seriously, two real robots, dressed like humans, showing human expressions, talking to each other and to Ben. Think about a super Siri (that really works LOL) and you will be close to what his discussion was. Really cool.
In the beginning of the afternoon, Laurie Segall (CNN Money) made a fantastic interview with Stan Chudnovsky (Facebook Messenger). Laurie was pretty tough and gave a hard time to Stan. She asked if Facebook was using the microphones of smartphones to listen to people's conversation and generate advertising . Stan, of course, denied, but to be honest with you, the audience seemed not to believe him. Stan also talked on how important is for Facebook to protect freedom and democracy, banishing violence, terrorism, apology to weapons from the social media.
Finally, John Krafcik, CEO of Waymo, made a presentation about the future of self-driving cars. With a car on the stage, John announced that Waymo has started test-drive fully self-driving cars, without anyone in the driver's seat, on public roads (this is disruptive, as to date all the companies has a test driver at the wheel as a backup). John wants self-driving cars to be escalated, in order to better serve people, cut traffic, and reduce car accidents.
Sunset Summit
The day would not be completed without a party, right? The first Sunset Summit was pretty cool. A welcome shot was offered by Licor Beirão. Our friends from Amicis Gin (you can read about Senhor Estilo prior experience in this post) were there, and we didn't miss the chance to be delighted once more with this premium gin, distilled from natural botanic. Different music styles set the rhythm of the night, from house to rock, passing through samba, from a DJ to a rock band, everything was perfect to dance, talk and appreciate a beautiful view of Tejo from Portugal Pavilion.