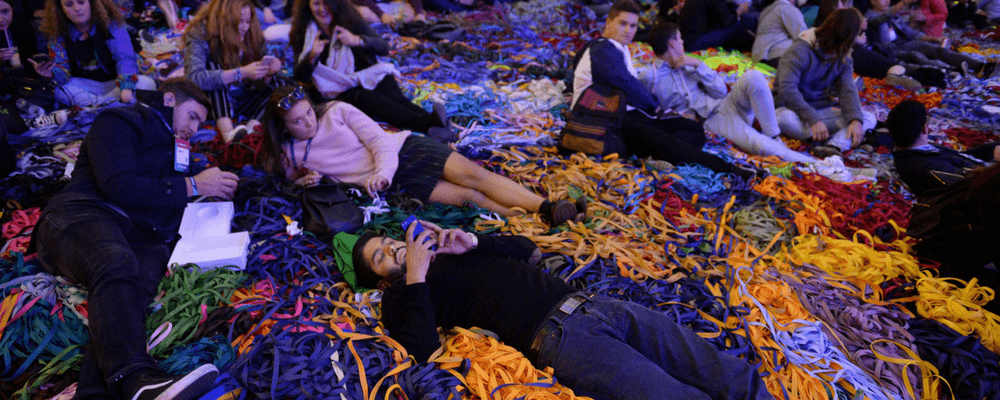 08 nov

WEB SUMMIT DAY 2: TIPS FROM THIS INSIDER, SOCIAL MEDIA ADDICTION AND MORE
The backstage, social media addiction, crazy party… Web Summit is all about networking, experiences and business
As you may have seen in my Instagram (follow me, @glaucojunqueira), Altice Arena and FIL were again filled by people for the second day of WS.
Today, I would like to start the post by providing you with some personal insights and tips to enjoy this experience and take the most from WS (in case you are already here, or planning to attend the next years – WS shall stay in Lisbon until 2020, at least).
In our post about the Opening Night, we quoted Paddy Cosgrave: "networking is in the heart of WS". This is so true. Walking around, you will see people from different backgrounds, professions and interests. Believe me, everyone is eager to talk. Here in the Media Village, in the startups spaces, along the several stages, in the lunch area, in the Sunset Summit, in the Night Summit, you can meet incredible people. Portuguese, Brazilians, Americans, Italians, Croatians, Danish, I can't even count the number of persons that I've talked to. Do not miss the chance!
Schedule, schedule, schedule. If you are really interested in some speeches, put them at your schedule at WS app. There is a lot going on, and it is impossible to take the most of the speeches without a little planning. Remember to be realistic: changing from one stage to another takes time (around 15 minutes from Centre Stage to Pavilion 3, for example).
Relax, drink, eat. Attending so many activities can be exhausting. Make a pause, drink something, have a seat and talk to the colleague next to you (there are around 60,000 colleagues, so for sure you will find someone that you relate to).
Enjoy the activities provided by the sponsors. How often do you have the chance to drive an electric BMW? You can take a test drive, in an all-eletric i3s. Where? BMW i Plaza (outside FIL Pavilion 1). Check it out and enjoy.
Save energy to the night activities. Great part of the fun is in the WS night events. All starts with the Sunset Summit (from 4:00pm) and goes until you have energy, in the Night Summit. You have over 120 pubs at your disposal. Be prepared and energized J! Today, for example, the main official event was in LX Factory (one of the coolest places in Lisbon). Fueled by Carlsberg and Jameson whisky, the Un/signed party was a celebration of unsigned Portuguese musical talent, and counted with electric and unplugged performances of the artists Rita Maia, Gume, Batida and SHAKA LION.
Now, back to point, today's most interesting were about workplace and social media addiction (wow).
Around workplace, Facebook has showed its vision for the future: e-mails and Word papers are so old fashioned and last season. People are more interested in real collaboration, with transparency, space for discussion, instant ideas sharing, online surveys. Facebook has a tool (@workplace by Facebook) that is already enabling this type of experiences to companies like Farfetch, Walmart, Delta Airlines, among others. It seems really promisor.
On the social media addiction (OMG!). Do you know that social media is built using the same principles applied to create addiction in gambling? Swapping our timelines is pretty much what we do in a casino machine, images and posts are like the fruits and objects, and the reward is to see other people´s histories and life events. Usually, in about 30 minutes, the brain starts to grieve for more. And like drugs (that the addicted knows may eventually kill him/her), lots of people check social media and text while driving, putting at risk their own lives and the other´s. Good material to think. To be noted, there is hope: social media is in fact the most important communication tool, that is transforming society, the way we interact and work, for good. At the end, it is all about to find the right balance and make a good use of internet.
See you on the final day!